Robotic Machines & Specialty Processes
custom solutions for any industry
Automation System Design & Development


Robotic machine design applications often require many of the technical disciplines in electronic product development such as embedded designs, wireless communications, motor drive, optical sensors, cables, thermal mitigation, and power supplies. Each of these applications requires a comprehensive understanding of motion control design including position sensing and orientation, movement, and system safety. At Cardinal Machine, we have expertise in each of these disciplines.
Examples of Our Robotic and Specialty Machine Solutions

Resistance Welders
Since our earliest years of operation, Cardinal Machine Company has been designing and building custom resistance welding solutions. We successfully utilize and integrate AC, DC mid-frequency, and capacitive discharge processes.
Regardless of your need, Cardinal Machine Company can provide a resistance welding solution.
A sampling of the type of equipment that we build would include:
Typical press welder type machines
Single or multi-station spot and/or projection welders (manual or auto load/unload)
Dial index type style machines utilizing resistance welding workstations
Robotic spot welding cells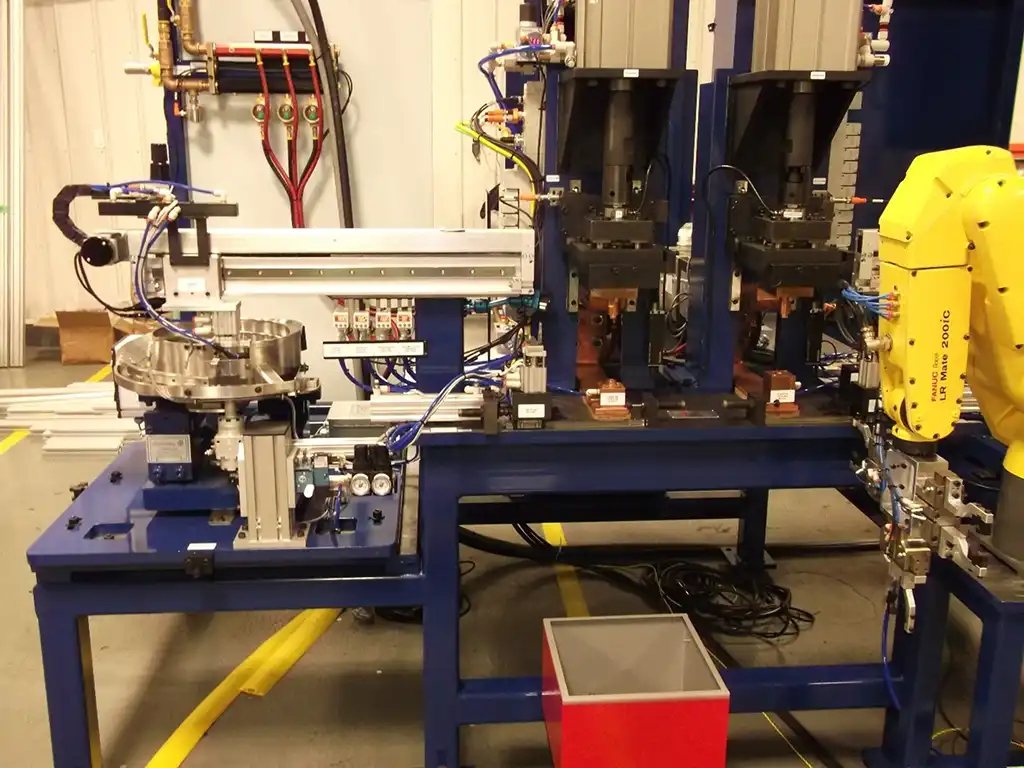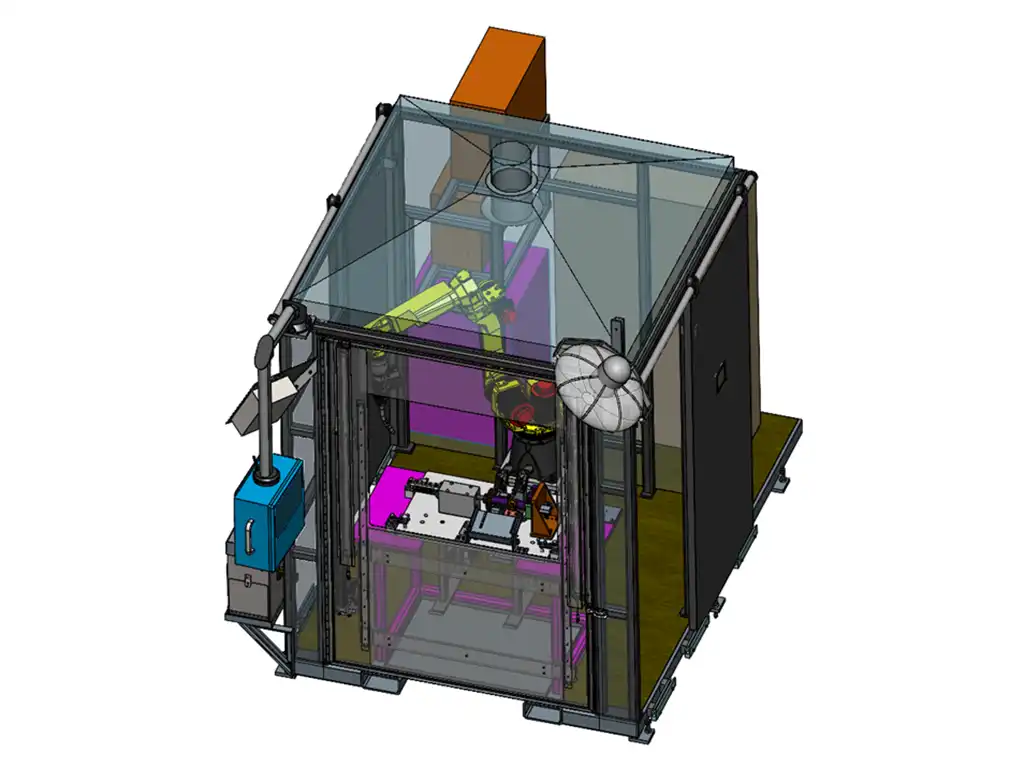 Arc Welders
Using primarily the GMAW (Mig) or PAW (Plasma) processes, Cardinal Machine Company's custom welders can meet your manufacturing requirements.
Whether your part calls for spot, linear, or circumferential welding, we can provide the solution. Depending on the application, either a fixed or moveable torch and/or part may be employed.
Additional features such as seam tracking, torch oscillation, and arc length control may be utilized to attain certain characteristics and provide required output.
Robotic Cells and Integration
Cardinal Machine Company routinely integrates robotic equipment in a wide variety of manufacturing applications. We take pride in our simple and user-friendly approach to robot integration.
Whether your application calls for automatic assembly, material handling, resistance, GMAW (MIG), or PAW (Plasma) welding, we can provide a repeatable, user-friendly solution.
Additionally, we offer our standard CMC-VS MIG welding cell as a safe, intuitive, and rapidly deployed cell for small to mid-sized assemblies.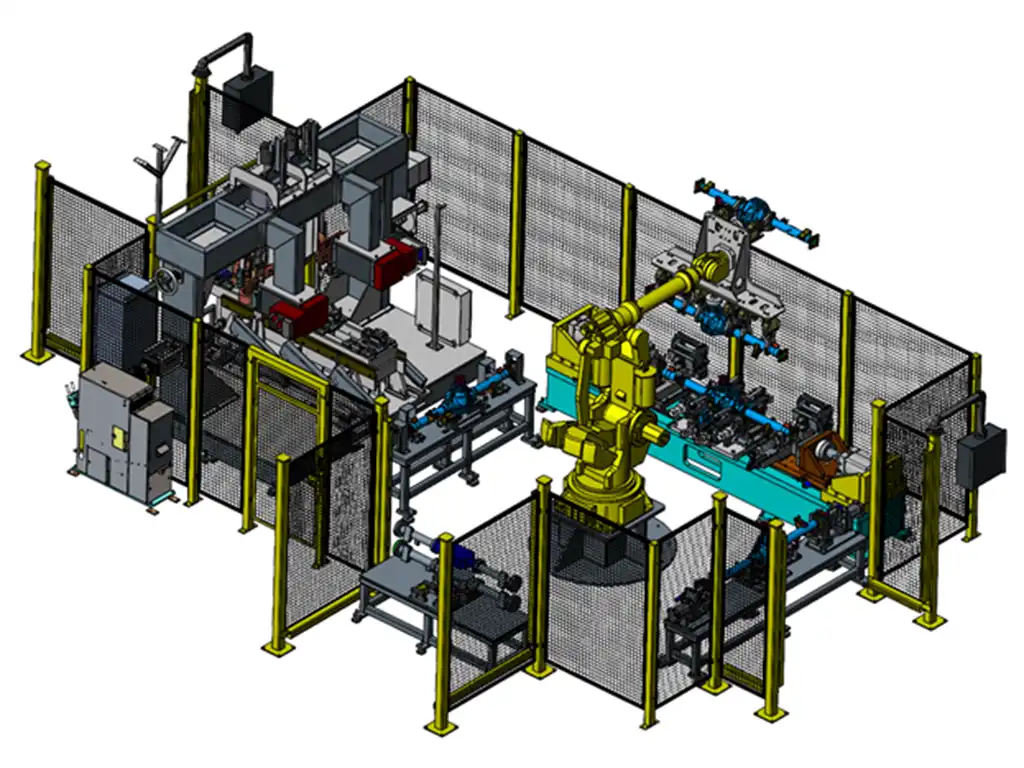 Unmatched Expertise & Service
Cardinal Is Your Best Choice for Robotic Machines & Specialty Process Development

The Cardinal engineering team uses the latest software and systems to design your needed solution. Why should you choose Cardinal? Because our process includes:
Our in-house fabrication, detail manufacturing and final assembly completes the build process.

We provide traditional on-site or virtual technology for the final runoff and buyoff processes.
We provide or coordinate crating, shipping, installation, and commissioning worldwide.

We offer our customers simple, reliable, maintainable, and durable solutions to the most complex manufacturing challenges.
Testimonials

Edmond S.
Joyson
We have about 800,000 cycles on the machine
Gasfill scrap ran .46% of total production last month which is very good.
Mark A.
Delphi
Just a quick note to share my appreciation for all the hard work Kevin and Kelvin put in last week for me. They did an excellent job. Of course I expected them to, but they completed all I asked for and more. Those two gentleman are the best at what they do, and it's nice to work with professionals who only know how do things one way - the right way.
Thanks again for sending them, and I look forward to future jobs with Cardinal Machine Company.
A Partner You Can Rely On
Why Choose Cardinal?

We have been providing specialized industrial equipment and services to business and manufacturing since 1972. We welcome the challenge of providing simple and functional solutions to the most complex manufacturing, welding, and assembly problems. We strive for long-term, time-tested business relationships.