Complete Lines & Systems Integration
AUTOMATION INTEGRATION MADE EASY
Synchronous & Non-Synchronous Approaches
Systems Integration, Complete Lines & Automation Solutions


From stand-alone machines and fixtures, to complete automation lines, Cardinal Machine Company has the experience to fill your manufacturing needs. Our automation lines may utilize a synchronous or non-synchronous approach and may employ a wide variety of part conveyance methods. A variety of factors may determine the use of kaizen lean principles, power and free, walking beams, precision link carousels, rotary dial index machines, robotic part handling, or a combination of many. Ancillary processes and functions such as automatic part feeding, drilling, tapping, punching, forming, sorting, welding (resistance, GMAW, PAW, laser, centrifugal), vision systems, testing, are used often in combination to attain the final result.
On Time, Under Budget Solutions
How You Benefit From Our Systems Integration Expertise

We provided world-class mechanical design, controls design, electrical design, fabrication, custom component builds, and special equipment integration. Combined with our in-house expertise in process development, this ensures your project stays on budget, on time, and provides the best long-term ROI. Our turnkey automation system development includes: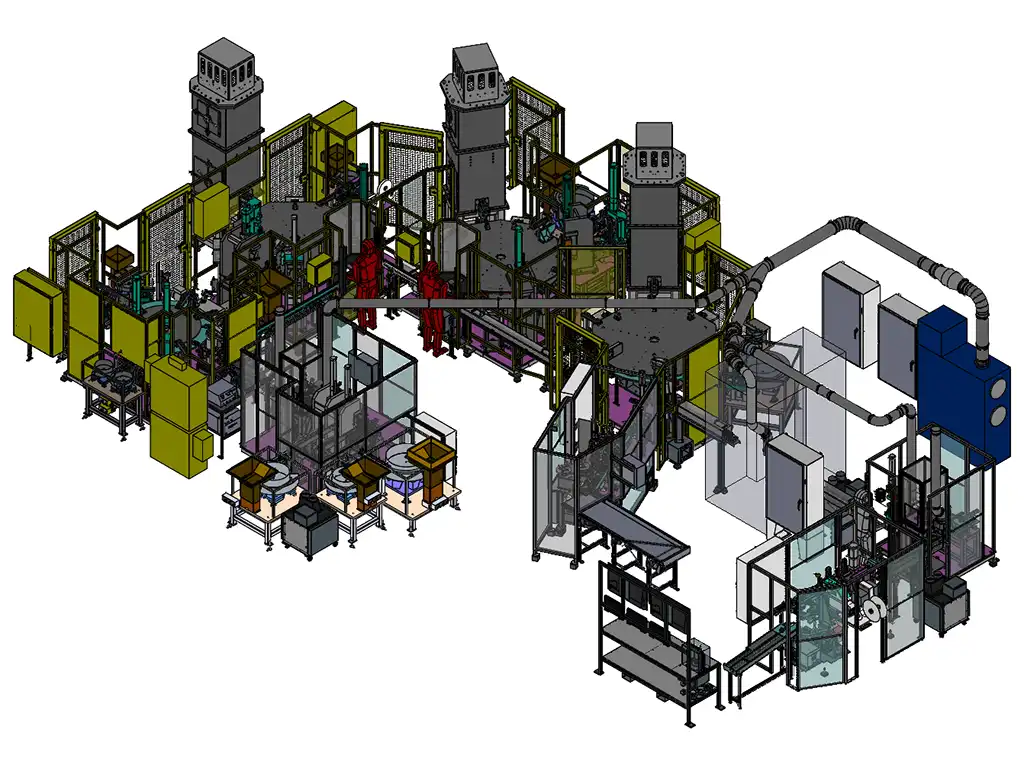 Controls & Automation Design

Engineering & Programming

Fabrication, Testing & Shipment

Installation

Commissioning & Integration
Unmatched Expertise & Service
Cardinal Is Your Best Choice for Complete Line Systems Integration

The Cardinal engineering team uses the latest software and systems to design your needed solution. Why should you choose Cardinal? Because our process includes:
Our in-house fabrication, detail manufacturing and final assembly completes the build process.

We provide traditional on-site or virtual technology for the final runoff and buyoff processes.
We provide or coordinate crating, shipping, installation, and commissioning worldwide.

We offer our customers simple, reliable, maintainable, and durable solutions to the most complex manufacturing challenges.
Testimonials

Mark A.
Delphi
Just a quick note to share my appreciation for all the hard work Kevin and Kelvin put in last week for me. They did an excellent job. Of course I expected them to, but they completed all I asked for and more. Those two gentleman are the best at what they do, and it's nice to work with professionals who only know how do things one way - the right way.
Thanks again for sending them, and I look forward to future jobs with Cardinal Machine Company.
Edmond S.
Joyson
We have about 800,000 cycles on the machine
Gasfill scrap ran .46% of total production last month which is very good.
A Partner You Can Rely On
Why Choose Cardinal?

We have been providing specialized industrial equipment and services to business and manufacturing since 1972. We welcome the challenge of providing simple and functional solutions to the most complex manufacturing, welding, and assembly problems. We strive for long-term, time-tested business relationships.