Engineering Machine Design Solutions
Our 3D automation machine design services improve efficiency, reduce errors and provide a smart design package.
A full range of engineering specialties
Machine Design Solutions & Services

Whether your process requires complex multi-station assembly lines, dial index machines, robotic cells, single station machines, or just a simple fixture, Cardinal Machine Company can meet your requirements.
Our engineering team has the knowledge and experience necessary to ensure the success of your project. Our engineering machine design solutions include a full array of services.
We have a complete in-house staff of 3D designers skilled at:
Mechanical engineering
Electrical Engineering
Fluid Power
Controls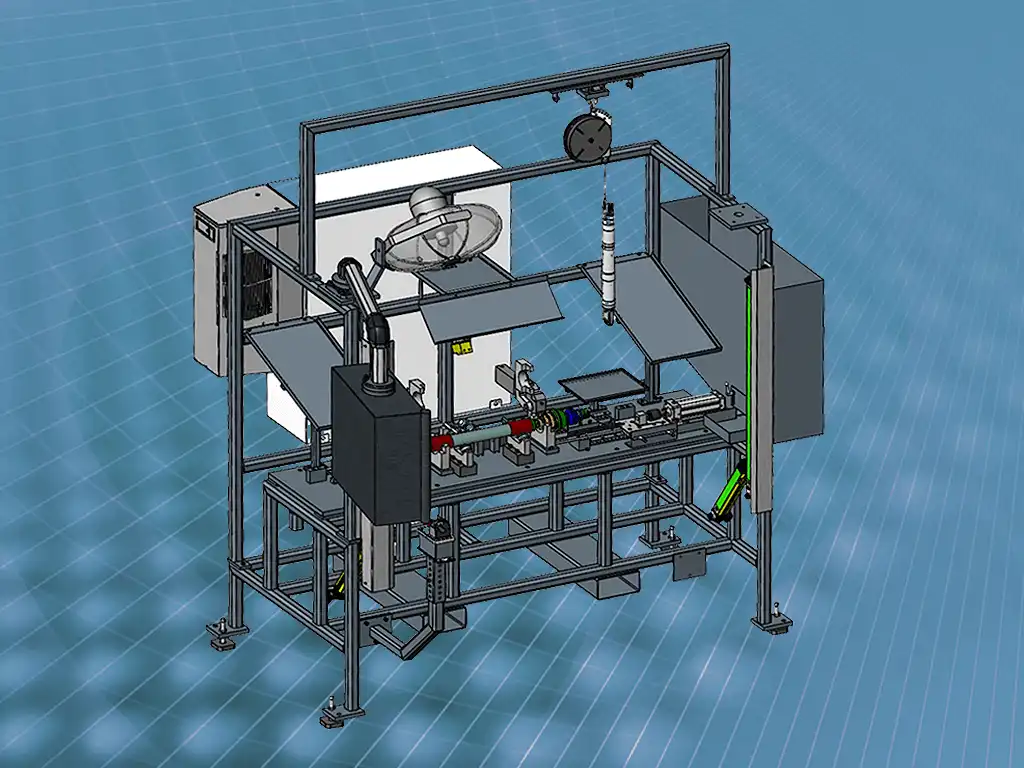 high-tech 3d machine design
Machine Design Engineered to Perform

Automation machine design is exclusively a 3D process at Cardinal Machine Company. All mechanical designs have been exclusively created in 3D since 1997. SOLIDWORKS® is our primary CAD software for mechanical engineering and surface modeling, and latest software versions are always utilized. When called for we can perform finite element analysis (FEA), including fatigue analysis. SOLIDWORKS® Simulation is used for all FEA studies.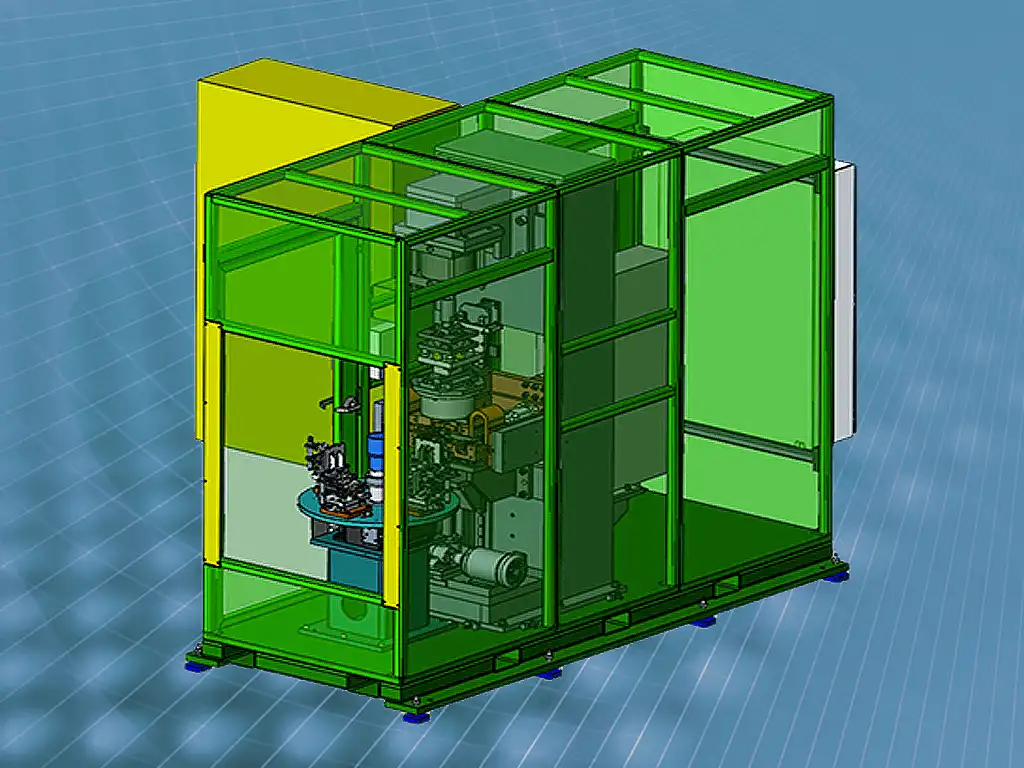 SOLIDWORKS
SOLIDWORKS is used to develop mechatronics systems from beginning to end. At the initial stage, the software is used for planning, visual ideation, modeling, feasibility assessment, prototyping, and project management. The 3D modeling software is then used for design and building of mechanical, electrical, and software elements.
AutoCAD
AutoCad® is our primary design tool for controls engineering (electrical, fluid power) and the latest software versions are always utilized. We use the AutoCad® Electrical Toolset for the creation of controls drawings. The use of AutoCad® Electrical Toolset improves efficiency, reduces errors, and essentially creates a smart design package
The Best Tools, The Best People, The Best Processes
How We Achieve World-Class Automation Equipment Machine Design

We use the latest equipment, adhere to the highest standards and employ the best machine builders on the planet.
Mechanical Design
We generate all machine designs using 3D modeling. Our computer aided design engineering drawings and related documentation can be delivered in a variety of electronic and printed formats. Our electrical and fluid power designs are generated in the latest AutoCAD release.

Design Software
We support a variety of programming software, including, but not limited to: Allen Bradley; Modicon; Siemens; Mitsubishi; GE Fanuc.
Facilities
Our clean, modern, 25,000+ square foot facility allows internal "concept-to-delivery" capability.
IT capabilities
We feature modern workstations and laptops supported by a multi-tiered server system, including continuous automatic data backup. We have dedicated high-speed internet access for fast and secure data transfer.
Process Development
Our equipment and engineering experience allow us to find solutions for many manufacturing process challenges. We develop various processes, including but not limited to: MIG Welding, TIG Welding, Plasma Welding, Resistance Welding, Laser Welding and High-Pressure Gas Fill.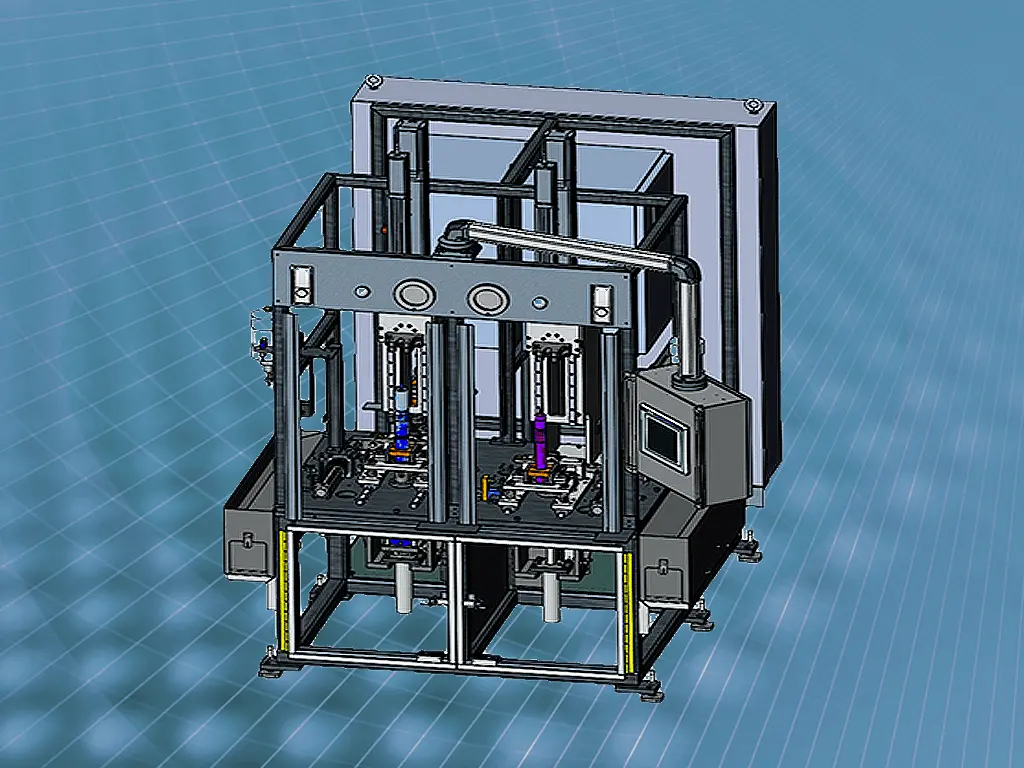 DESIGN FOR MANUFACTURABILITY (DFM)
Factors We Consider When Designing & Engineering

To achieve success in custom automation machine design and engineering, Cardinal abides by a proven, reliable process, one that considers all aspects of a machine's requirements, including product needs as well as business needs.

Our goal is to create a product that is successful for years to come and helps generate worry-free productivity and profitability.

Our adherence to Design for Manufacturability (DFM) standards helps achieve this.

Here are the principles we take into consideration when designing a machine or system.
Business and Product Planning and Goals
KPIs and Operational Metrics
Understanding Added Value Product Costs at Each Stage
System Flexibility
Contingency Planning for Disruptions or Failures
Automating As Much As Possible
Performance Reporting and Feedback
Serviceability
And more...
What Our Machine Design Clients Say

Edmond S.
Joyson
We have about 800,000 cycles on the machine
Gasfill scrap ran .46% of total production last month which is very good.
Mark A.
Delphi
Just a quick note to share my appreciation for all the hard work Kevin and Kelvin put in last week for me. They did an excellent job. Of course I expected them to, but they completed all I asked for and more. Those two gentleman are the best at what they do, and it's nice to work with professionals who only know how do things one way - the right way.
Thanks again for sending them, and I look forward to future jobs with Cardinal Machine Company.
Why Choose Cardinal for Machine Design?

Our suite of machine engineering services are unrivaled. We cover all the bases.
Experienced Technical Team
We cover all the bases of custom machine making, from engineering to design to building to testing and commissioning.
Global Sales & Installation
We are North American based, but we can and will go anywhere to help manufacturers with their custom machine needs.
Cost-Effective Designs
Affordability is always top of mind. We are cognizant of the pricing pressures placed on manufacturers in today's global economy.
Lean Organization
At Cardinal, we adhere to Lean Manufacturing principles so as to create the most productive, most efficient environment possible.
Dedicated Project Managers
Each Cardinal client gets a dedicated project manager who stays with their project for the full duration of its lifecycle. And beyond.
A Dedicated Team
Our technical team has been providing specialized machine building services since 1972. We bring continuity, integrity and real-world experience to everything we do.